Tenant: Milwaukee Braves (NL,1953-1965), Chicago White Sox (1968 -1969) Milwaukee Brewers (AL, 1970-1997; NL, 1998-200)
Capacity: 28,111 (original) 53,192 (final)
Surface: Bluegrass
Cost: $5.9 million (1953)
Opened Naming Rights: None. Named after the County of Milwaukee.
Dimensions: 320-L, 404-C, 320-R (original), 315-L, 402-C, 315-R (Final)
Architect: Osborne Engineering
Location: Site of Helfaer Field, adjacent to Miller Park
History of Milwaukee County Stadium
Construction on Milwaukee County Stadium began in November 1950 and ended in April 1953. Built on what was formerly an old garbage dump, it was made to host high-capacity events of all kinds but, mostly, to act as a home stadium for the Milwaukee Braves. It also acted as a second home to the Green Bay Packers. 
The stadium was expanded in 1954 and the grandstand was double-decked down the foul lines in order to increase seating capacity to over 43,000 people. Over the years, more expansion work was carried out and the total capacity increased to over 53,000.
However, by the 1990s, the Milwaukee County Stadium was considered outdated and in 1992 plans for a publicly funded modern replacement were announced. This new stadium ( known as "Miller Park") would have luxury boxes and better amenities than the Milwaukee County Stadium.
Work on Miller Park Stadium began in 1996 and was scheduled to be opened in 2000. However, during the construction process, the site's "Big Blue" crane collapsed and killed three of the workers. This tragic accident led to Miller Park Stadium's opening being delayed and Milwaukee County Stadium continued to be used for another season. 
The final major league game held in Milwaukee County Stadium took place on September 28, 2000. After this, Miller Park Stadium became the exclusive home of the Milwaukee Brewers.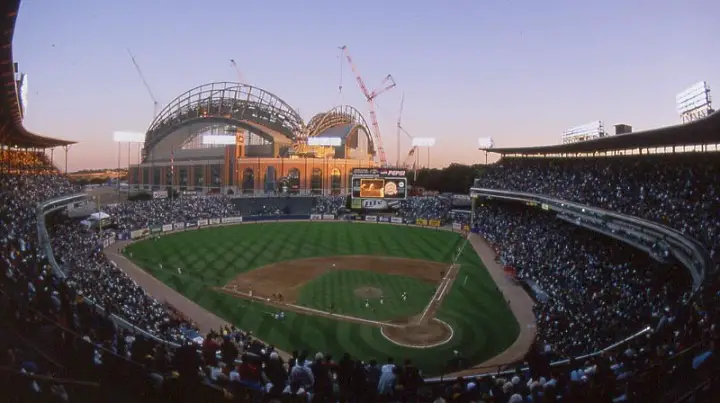 Who/What Is It Named After?
Milwaukee County Stadium is, perhaps unsurprisingly, named after the County of Milwaukee. This is due to the fact that it was backed by public financing and, as such, there wasn't any large private contributor to name it after. 
However, its modern counterpart, Miller Park Stadium did receive a large amount of private funding through a sponsorship deal with Miller Brewing Company. 
When Did It Open?
Milwaukee County Stadium opened in April 1953 and it served as a host for large-capacity events including baseball games and concerts until it was closed in September 2000. After this date, its modern counterpart Miller Park Stadium (located just across the street) became the new venue for such events. 
With Miller Park Stadium up and running, there was no longer any need for Milwaukee County Stadium and it was demolished in February 2001.
What Team Plays There?
Since it closed in September 2000, there aren't any current teams that play in Milwaukee County Stadium. However, during its prime, it was home to these baseball teams:
Milwaukee Braves (1953-1965)
Green Bay Packers (1953-1994, part-time)
Marquette Golden Avalanche (1957-1958)
Chicago White Sox (1968-1969, part-time)
Milwaukee Panthers (1968-1971)
Milwaukee Brewers (1970-2000)
Location
Milwaukee County Stadium has several entrances that cover different locations. These include:
201 South 46th Street (Left Field)
Menomonee River & South 44th Street / US-41 Stadium Freeway (Third Base)
Story Parkway & Interstate 94 (First Base)
General Mitchell Boulevard (Right Field)
Capacity (Seated & Standing)
Over the decades, Milwaukee County Stadium's capacity was increased from 36,011 people to 53,192. It only offered seated capacity and no standing spaces were available. However, since the stadium closed in September 2000 and it was demolished in February 2001, no events now take place at Milwaukee County Stadium.
Its sister stadium (Miller Park Stadium) has a capacity of 41,900. Just like Milwaukee County Stadium, all capacity is seated-only.  The average attendance is just over 32,000 people per game. 
What Are The Stadium Dimensions?
Milwaukee County Stadium was demolished in February 2001. However, before the bulldozers were brought in, its final dimensions were as follows:
| | |
| --- | --- |
| Dimension | Distance |
| Left Field Line | 315ft (96m) |
| Shallow Left Center | 362ft (110m) |
| True Left Center | 382ft (116m) |
| Deep Left Center | 392ft (119m) |
| Center Field | 402ft (123m) |
| Deep Right Center | 392ft (119m) |
| True Right Center | 382ft (116m) |
| Shallow Right Center | 362ft (110m) |
| Right Field Line | 315ft (96m) |
Seating Chart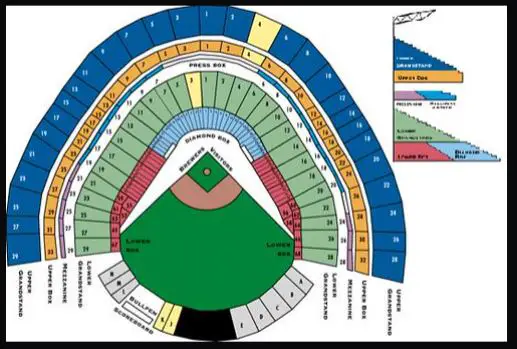 Like most baseball stadiums, Milwaukee County Stadium's seating was arranged in a triangular shape around the baseball field. It also had tiered seating that spanned five levels. 
Best Seats
The pitch-side seats at Milwaukee County Stadium were considered to be its best seats. Unfortunately, it didn't offer any luxury boxes which is what ultimately led to its demolition in February 2001. 
However, while Miller Park Stadium (Milwaukee County Stadium's modern counterpart) was being constructed, one demonstration luxury box was built in Milwaukee County Stadium to demonstrate the viability of one to local politicians and larger corporations. This was available to use up until the final game was played in September 2000. 
Notable Features
Unfortunately, Milwaukee County Stadium doesn't have any notable features as it was demolished in February 2001. In the lead-up to this, it was also deemed outdated and as such, it didn't have many features that would be considered notable. 
However, this doesn't mean that it never had any notable features in its heyday. It did have a monochrome Omega scoreboard that was built in 1980 and, while this would have been outdated by the time the stadium was demolished, it would have been a notable feature during the 80s. 
Memorabilia
There are several pieces of Milwaukee County Stadium memorabilia available online including T-shirts, posters, and vintage seating plans. Since the stadium has been demolished there is no way of purchasing memorabilia from the venue itself. 
However, while most of the old site is now parking for the modern Miller Park Stadium, one section has been converted into a Little League park called "Helfaer Field". Next to this park, there is an outline of where the home plate was at Milwaukee County Stadium. There is also a bronze marker in the nearby parking lot where Hank Aaron's 755th (and final) home run landed. 
While these aren't pieces of memorabilia you can take home, they are worth a visit if you're an avid baseball fan. 
Tickets
Tickets are no longer available for Milwaukee County Stadium as it was demolished in February 2001. You can find tickets for baseball games and other events at Miller Park Stadium instead. The cost of these tickets depends on your seating choice but, on average, you'll pay between $90 – $56. 
Mascot
Milwaukee County Stadium's mascot was "Bernie Brewer", the official mascot for the Milwaukee Brewers Baseball team. He was created as a tribute to Mitt Mason, the team's number one fan. 
Mitt Mason rose to notoriety with the team after, despite being 69 years old, he climbed atop the scoreboard and stayed there until the team could draw a crowd of 40,000. He stayed there for a total of 40 days!
Notable Events
Even though Milwaukee County Stadium is no longer a venue, it did witness some notable events during its prime. These include:
A new record was set by Harvey Haddix of the Pittsburgh Pirates in May 1959 after he pitched 12 perfect innings. Unfortunately, the team lost 1-0 to the Milwaukee Braves in the 13th inning!
In May 1975, Milwaukee County Stadium also saw Hank Aaron break Babe Ruth's RBI Record of  2211 by driving in his 2212th run as the Brewers beat the Detroit Tigers. 
In October 1982, Milwaukee County Stadium witnessed the Milwaukee Brewers win against the California Angels and achieve their first (and only) American League Championship. 
Nolan Ryan won his 300th Major League Baseball Game at Milwaukee County Stadium on July 31, 1990, beating the Texas Rangers 11-3.
It may have taken several decades but, on September 14th, 1991, Cecil Fielders who played for the Detroit Tigers became the first and only player to hit a home run that soared over the bleachers and completely out of Milwaukee County Stadium. 
Public Transport
If you'd like to visit the old site of Milwaukee County Stadium, all you need to do is head to Miller Park Stadium as it is adjacent to the plot the stadium once stood in. The following transport lines have routes that pass near Miller Park Stadium:
What Bars Are Near To Milwaukee County Stadium?
There are a few bars near the old site of Milwaukee County Stadium that you can visit. Some may even have some memorabilia that will add to the excitement of your trip! 
Barbiere's Italian Inn is a fan favorite and here you'll be able to grab a drink and a meal. 4th Base is another fantastic bar near Milwaukee County Stadium and Miller Park Stadium and they have been trading for over 40 years, so you're almost guaranteed to find some history of the stadium there. 
However, if you really want to immerse yourself in Milwaukee County Stadium and Milwaukee Brewers' history, we'd recommend going to Cesar's Inn. It was once owned by Harvey Kuenn who played on the team and led them to the 1982 World Series.