Tenant: Texas Rangers
Capacity: 40,300
Surface: Synthetic Turf
Cost: $1.2 Billion
Opened: July 24, 2020
Naming Rights: Globe Life Insurance
Dimensions: 329-L, 372-LC, 407-C, 374-RC, 326-R
Architect: HKS
Location: Arlington, TX
Public Financing: 50%
Private Financing: 50%
Home Dugout: First Base
History Of Globe Life Field Stadium
The Globe Life Field stadium was originally opened in 2020 with a retracting roof and amazing facilities that use high-quality technology to ensure that every visitor has a good time. Despite the modern features; however, the design is still classic to give fans a nostalgic feeling. 
Fans can cheer for their favorite teams in comfort thanks to climate-controlled settings. It took 30 months to build this stadium, with the first groundbreaking taking place on September 28th, 2017.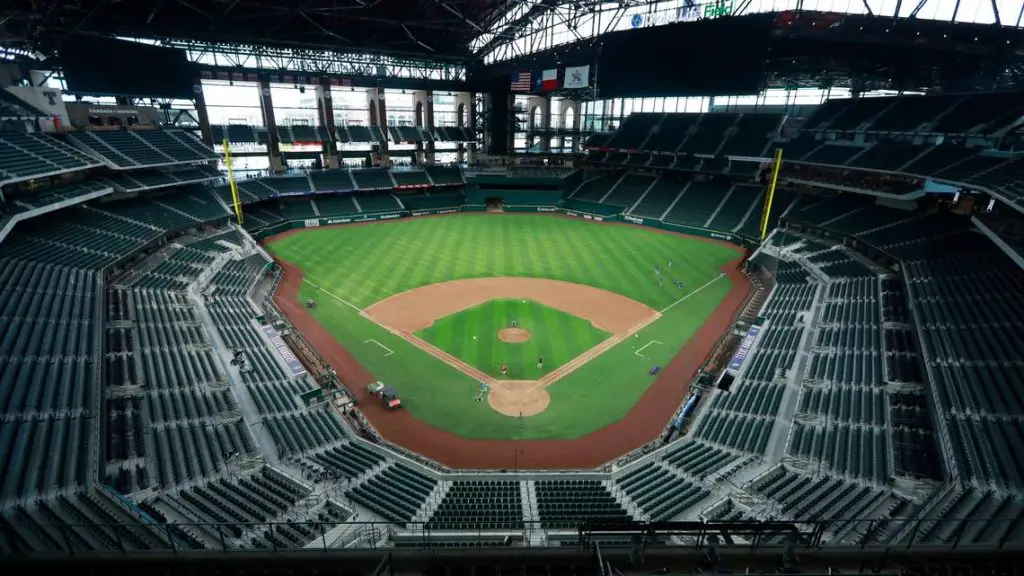 Who / What Is It Named After
Globe Life and Accident Insurance Company own the naming rights for the Globe Life Field stadium. They own the rights until 2048, in which it can be named something else if another company reserves the rights. Globe Life and Accident Insurance Company is a subsidiary of McKinney-based Globe Life. 
When Did It Open
Globe Life Field first opened on July 24th, 2020 – 30 months after construction first started.  
What Team Players There
Since the stadium first opened, Globe Life Field has been the home of the Texas Rangers of Major League Baseball. The Texas Rangers used to play in the Globe Life Park in Arlington before the new stadium opened. 
Location
The Globe Life Field can be located in Arlington, Texas. It is a stadium that can be found in the United States of America. 
Capacity (Seated & Standing)
The total capacity of the Globe Life Field stadium is 40,300. The full seating capacity is up to 40,000, so there is very little standing room only. Most guests who visit the stadium will have their own assigned seats. 
What Are The Stadium Dimensions
The stadium is measured at 1.8 million square feet, which is 400,000 square feet larger than its predecessor, Globe Life Park. At the highest point of seating, it is 278 feet away from the playing field. The exterior sides measure in at 785 x 815 feet. 
The field size is, for Baseball, as follows: 
Left field: 329 ft (100 m)
Left center: 372 ft (113 m)
Center field: 407 ft (124 m)
Right center: 374 ft (114 m)
Right field: 326 ft (99 m)
Backstop: 42 ft (13 m)
Seating Chart
As you can see, there are seats all around the playing field for you to choose from. Most of these are behind the batting area so that you can experience the ball flying away from you. 
When being used for concerts, Globe Life Field features many more seating blocks along the field with the stage being positioned at the back of the stadium.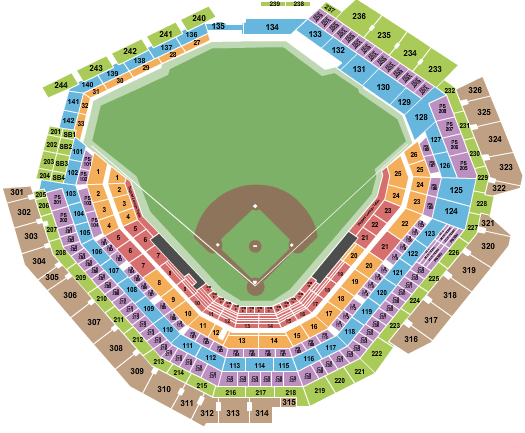 Seats For Sale
You, like many other Texas Ranger fans, could own your own seat in the Globe Life Field stadium. Ensure that you never miss another game by purchasing a seat to use whenever you want. 
There are plenty of levels of seats to purchase, with the best being VIP Home Plate Club seats, row 1 18 to 19. You can purchase one of these seats for $450. 
Depending on the row you want to sit in, the price will decrease from this number. You can opt for a budget seat, such as a Corner Box for $50, which is 1 to 4 in all rows, or 22 and 23 between rows 9 to 16. 
You can also purchase tables for cheaper prices, ranging from $25 to $90. These prices are for season tickets, so purchasing seats for individual games will likely be more. 
Best Seats
The best seats in the house are considered to be the Rangers Dugout and the Visitor Dugout. Here you can sit behind the Rangers and visiting players and watch the game unfold right in front of you. 
To sit behind the Rangers you'll want Sections 18, 19, or 20. The visitors will be sitting in front of sections 7, 8, and 9. 
The upper box seating is the best seat of the upper-level seating sections, giving you excellent views of the home plate and players. 
Notable Features
The main feature of the Globe Life Field is its roof and how it can be retracted. The 240,000 square foot roof retains the outdoor setting thanks to its transparency. However, it can also keep you comfortable with its air conditioning. You can enjoy the sunshine without the heat! 
The seats are also deluxe and enjoyable, no matter where you sit. You don't need to drop a lot of money on the most expensive seats to experience comfort. 
Another interesting fact is that the stadium offers all-you-can-eat seating which allows you to enjoy a buffet while you watch the game. This is only available to some seats; however, so don't miss your chance to experience these seats! 
Memorabilia
While you visit this stadium, stop by the Rangers Authentics outside the Grand Slam Team Store to pick up your own memorabilia about the Rangers themselves. 
Choose from used balls to t-shirts, posters to keychains. Everything that has been used by a Ranger will have a sticker of authenticity to make sure that your bragging rights remain intact for good. 
You can contact the stadium store and ask them to set aside a used ball or numbered base from any game you like. There's no guarantee that you'll get the one you wanted, but this is a nice touch to ensure that as many fans get their own piece of memorabilia as possible. 
Tickets
You can buy season tickets for the Globe Life Field stadium to ensure that you never miss a match featuring the Texas Rangers again. 
Alternatively, you can purchase tickets for individual games. The pricing both depends on your seats and the plan you choose. There are four plans, all of which boast slightly different pricing. 
The prices for individual tickets range from $18 to $55. Bear in mind that this is subject to change depending on the game, season, and seats. 
Mascot
The Rangers mascot is called Captain and he makes a grand entrance every game with featured participants on the main video board. This is all done while they ride out to the field during his grand entrance. 
Notable Events
The Grand Life Field stadium is yet to experience any notable events yet due to the majority of them being pushed back by Covid-19. We're all hoping that 2021 will be the year for these all to emerge. 
What Time Do The Gates Open
For afternoon games the gates open for all ballpark entries 1.5 hours before the game begins. However, special events such as Opening Day and Postseason games might see these times differing slightly. 
For night games, the ballpark entries can enter the stadium 2 hours before game time. Again, these are subject to change for special events. 
How Much Is Parking at Globe Life Field Stadium & Best Option
Parking is conveniently found throughout many parking lots around the stadium. These open two hours before the first pitch for afternoon games and 2.5 hours before the game for night games. 
If you drive a Lexus to any home game you can use the complimentary parking on 715 Stadium Drive. 
Alternatively, you can use RV/bus parking or seasoned parking lots. Parking is first-come first-served. General parking ranges from $15 to $25. Bus parking is $50 and RVs $100. 
https://www.mlb.com/rangers/ballpark/parking-and-rideshare
Can You Get A Parking Pass
Yes, you can get many parking passes. Season ticket members can also purchase a parking pass which allows them to enjoy reserved parking lots. 
Handicap Parking
There is handicap parking in most of the cash and season parking lots. These spots are first-come, first-served. You can request an ADA cart from each lot by talking to the parking staff. 
Is There Tailgating?
No, tailgating is not allowed at the Globe Life Field. 
Public Transport
You can use Uber, Lyft, and taxis to ride to the stadium. These are available on the southbound side of Nolan Ryan, located between the traffic circle and Randol Mill.
Best Food At Globe Life Stadium
We enjoy the long food items such as the Boomstick, two-foot-long hot dog, and two-foot chicken tender. There are over 45 concession stands, 20 bars, and 10 kitchens at the stadium, all offering a great selection of food and drink. 
Can You Bring Your Own Food Into The Stadium
Yes, as long as the food is within a sealed and clear bag. The bag must be gallon-sized or less and made from plastic. Each ticket is only allowed one bag of outside food.
Can You Bring Your Own Drinks Or Water
Yes, you can bring your own non-flavored water into the stadium. This must be in a plastic bottle one liter or less. Each ticket is only allowed one bottle of water. 
What Bars Are Near Globe Life Field Stadium
Below is a list of the best bars near the stadium for you to enjoy before or after the game: 
Lockhart Smokehouse
Sports and Social
Troy's 
Cut & Bourbon
The Diamond Club
Captain Morgans