Tenant: Arizona Diamondbacks
Capacity: 48,686
Surface: Synthetic Turf, Grass (1998 – 2018)
Cost: $354 million
Opened Naming Rights: Chase, $2.2 million/year through 2028
Dimensions: 330-L, 376-LC, 407-C, 376-RC, 335-R
Architect: Ellerbe Becket
Location: Phoenix, Arizona
Public Financing: 71%: 25% sales tax increase, $15 million bonds
Private Financing: 29%: Diamondbacks
Home Dugout: Third Base
History of Chase Field Stadium
Chase Field Stadium was one of many stadiums built during a trend for baseball-only parks during the 1990s. But, one thing that made it stand out from the rest was that it featured a state-of-the-art retractable roof that could open and close in just over 4 minutes. 
The reason behind this design is due to the fact that outdoor temperatures can well exceed 110ºF in Arizona during the summer. By being able to close the roof, both the baseball players and fans were shielded from this intense heat. 
Another unique feature of Chase Field Stadium is the swimming pool located in the right-center field. This is rented to patrons as a part of a suite that can hold 35 guests for a cost of $3500 per game. 
There was some controversy surrounding the construction of Chase Field Stadium, though. Since 71% of its financing came from the public, a quarter percent increase in County Sales Tax was implemented. This happened during a time when the county was facing huge budget deficits and funding for other services had been cut. Unsurprisingly, this was met with resistance from local citizens.
In fact, the issue around Chase Field Stadium's public funding became so divisive that in August 1997, Maricopa County Supervisor, Mary Rose Wilcox, was shot and badly injured during a county board meeting. Her would-be assailant was Larry Naman, a local homeless man who claimed that his attack was due to Wilcox's support of the tax increase. 
Nevertheless, the tax rise stayed in place and $279 million of public money was spent building the stadium. However, the cost overrun and the final construction costs totalled $364 million. This extra $85 million was paid for by the Diamondbacks.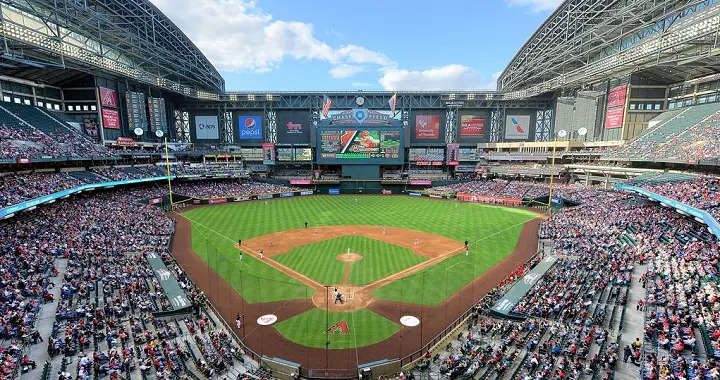 Who/What Is It Named After?
Chase Field Stadium was originally named "Bank One Ballpark", after Bank one of Chicago, Illinois. This is the reason why you'll sometimes hear the stadium being referred to as "BOB". 
It kept the name of Bank One Ballpark until September 23rd, 2005, when Bank One merged with New-York based investment banking giant JPMorgan Chase & Co. 
When Did It Open?
Construction on Chase Field Stadium was completed in 1998 and the first game played on the pitch took place shortly after on March 31st, 1998. Since then, it has been used to host some of the baseball world's most important events including:
The 2001 World Series
The 2006 World Baseball Classic
The 2011 Major League All-Star Game
The 2017 National League Wild Card Game
What Team Plays There?
Chase Field Stadium is the home of the Arizona Diamondbacks, and it has been since it was opened in 1998. The Arizona Diamondbacks also have a fellow expansion franchise, The Tampa Bay Devil Rays. 
However, the Tampa Bay Devil Rays don't play at Chase Field Stadium very often and, instead, play most of their games at Tropicana Field. 
Location
Chase Field Stadium is located in Phoenix, Arizona, and its precise location spans a few different streets. You can enter the stadium to the North from Jefferson Street to the South from Fourth Street, and to the East from Seventh Street. 
This location puts Chase Field Stadium right at the epicenter of Phoenix's sports scene. 
Capacity (Seated & Standing)
As is the case with most baseball stadiums, Chase Field Stadium's capacity has fluctuated over the past few decades as new additions to the building have been constructed. Here's how its capacity has changed since it was first opened in 1998 to the present day:
| | |
| --- | --- |
| Year | Capacity |
| 1998 – 2001 | 48,500 |
| 2002 – 2007 | 49,033 |
| 2008 | 48,711 |
| 2009 – 2010 | 48,652 |
| 2011 – 2014 | 48,633 |
| 2015 – 2016 | 48,519 |
| 2017 – Present | 48, 686 |
What Are The Stadium Dimensions?
Chase Field Stadium's field dimensions are:
LF: 330'
LCF: 376'
CF: 407'
RCF: 376'
RF: 335'
The outfield wall height is:
LF: 7'6"
CF: 25'
RF: 7'6"
Batter's Eye: 66' x 2'6"
Seating Chart
All of Chase Field Stadium's 48,686 seats are arranged around the field and spans across four tiers. You can see the entire stadium's seating plan here and, if you really want to get a feel for the stadium, you can take a virtual tour here.
Best Seats
There are a few seats at Chase Field Stadium that could be considered the best. The first of these are located in the Clubhouse Box, Dugout Box, and 1st Base/3rd Base Box (Sections A through S). These seats are just feet away from all the action. 
Club Box 208-213 is also considered as the best seats in the stadium. These are press box height seats and they are located between the dugouts, giving you a bird's eye view of the entire field. 
Notable Features
There are two notable features that you'll find at Chase Field Stadium. The first is its retractable roof. This was designed to keep the players and the fans cool during the scorching Arizona summer heat. It also allows games to take place during torrential rain without the players, fans, or field getting soaked!
The second notable feature is the swimming pool that is located in the right-center field. This is rented out as part of a suite that can hold up to 35 guests, making it ideal for bachelor and bachelorette parties! You're offered a fantastic pitch-side view of the field and, in 2011, Arizona Diamondbacks player Mark Grace was the first to hit a home run straight into the pool!
Memorabilia
Chase Field Stadium has a team shop that sells a range of memorabilia. The shop is adjacent to the Box Office at Gate E, which is at the corner of 4th Street and Jackson. 
Some examples of the memorabilia on sale here include Nike x D-backs baseball sneakers and City Connect Jerseys. However, some of this memorabilia is limited so you'll need to get there quickly if you want some!
Tickets
Ticket prices at Chase Field Stadium vary depending on where you're seated. The least expensive tickets are Bleacher Tickets which can be priced as low as $29. However, if you want to splash out and purchase tickets for the swimming pool suite, you'll be looking at around $3500 per game. 
Mascot
The Arizona Diamondbacks (Chase Field Stadium's resident team) have a mascot called "D. Baxter the Bobcat". The idea for this mascot came from Brantley Bell, who is the son of former second baseman Jay Bell. 
He explained to his dad that the team should have a Bobcat mascot as an homage to the stadium's original nickname of "BOB". 
Notable Events
As well as playing host to some incredible baseball games, Chase Field Stadium has been used as a concert venue. The latest artist to play here was Billy Joel, who took his tour "Billy Joel in Concert" to Arizona in March 2019.
Other notable events include hosting several Women's College Basketball Games, Wrestlemania XIX, and the Royal Rumble. 
What Time Do The Gates Open?
This can vary between events but, for baseball, the gates open at Chase Field Stadium 2 hours before the game. They also reopen around 30 minutes after the game has finished. 
How Much Is Parking at Chase Field Stadium?
There are three official Chase Field Stadium parking garages and the prices differ between them. Here's the full breakdown:
| | | |
| --- | --- | --- |
| Garage | Type | Price |
| Jefferson Street Garage | Uncovered | $24 |
| Jackson Street East | 150 Uncovered | $15 |
| Diamondback Right Field Garage | Covered | $11 |
| Chase Field Garage | Covered | $10 |
| Chase Field Self Park Lot #2 | Uncovered | $8 |
| S 2nd St / E Jackson St | Uncovered | $10 |
Handicap Parking?
There are 31 accessible parking spaces available across Chase Field Stadium's 1,500 space parking lot. To use these, you'll need to display a disabled plate or placard. All parking, including handicap parking, is on a first-come-first-served basis, but you can pre-purchase a space to guarantee a parking spot. 
Is There Tailgating?
Tailgating is not permitted in any of Chase Field Stadium's parking garages or lots. 
Public Transport
There are two public transport options available that will get your to Chase Field Stadium:
D-Backs Express: This is a luxury bus service that travels from the Foothills Mall in Tucson to Chase Field Stadium. Round-fares cost $25 per adult and $20 per child. This bus departs 3 hours before game time.
Metro Light Rail: This train runs every 20 minutes on nights and weekends. You can purchase an all-day pass that will get you to and from the game without having to purchase an additional fare. 
Best Food At Chase Field Stadium
There are loads of bars and restaurants located within Chase Field Stadium. Some of the best include:
A-Zone Street Tacos
Big Dawgs
Burger Burger
Cactus Corn
Carvery Corn
Carvery Cart
Churro Dog
Cold Stone Creamery
Desert Ice
Dessert Carts
Doubleheaders
Fry's Grab N Go
Gadzook Enchiladas & Soup
Gonzo's Grill
Hop Valley Box
Hungry Hill Sangwich
Liquor Bar
Oasis
Paradise Valley Burger Co.
Pepsi Grab N Go
Red Hot Grill
ReyGloria's Tamales
Sizzle & Cheese
Streets of New York
Taste of Chase
The Still at Cutwater
Walter's Pretzels
Can You Bring Your Own Food Into The Stadium?
There are no food restrictions in place at Chase Field Stadium and you are welcome to bring any type of food into the stadium with you. However, there are restrictions on containers and your food must be stored in a clear plastic bag. 
Can You Bring Your Own Drinks Or Water?
There are a few drinks restrictions in place at Chase Field Stadium. Fans are only allowed to bring in non-flavored, non-carbonated water in a sealed bottle. Only plastic bottles are allowed as well. You cannot take in any metal drinks containers or Thermoses.