Tenant: Pittsburgh Pirates
Capacity: 38,747
Surface: Grass
Cost: $216 Million
Opened Naming Rights: PNC Financial Services
Dimensions: 325-L, 389-LC, 399-C, 375-RC, 320-R
Architect: HOK/LDA
Location: 115 Federal Street, Pittsburgh, Pennsylvania
Public Financing: 70% from State, City, and County
Private Financing: 30% – $40 million from the Pittsburgh Pirates
Home Dugout: Third Base
History of PNC Park
The History of PNC Park begins in September 1991, when Pittsburgh Mayor Sophie Masloff proposed the idea of a brand new 44,000 seat stadium. The idea of this stadium was to act as a home ground for the Pittsburgh Pirates after their current stadium (the Three Rivers Stadium) was considered outdated. 
Five years later and following much debate a list of 13 possible locations for the new PNC Park was created and the "North Side Site" was chosen as the final site. 
Construction finally began in April 1999 and the stadium opened in March 2001 and it was praised by both fans and media as one of the world's greatest baseball stadiums. ESPN.com writer Jim Caple was so impressed with the stadium that he even ranked it as "The best stadium in Major League Baseball", giving it a score of 95 out of 100.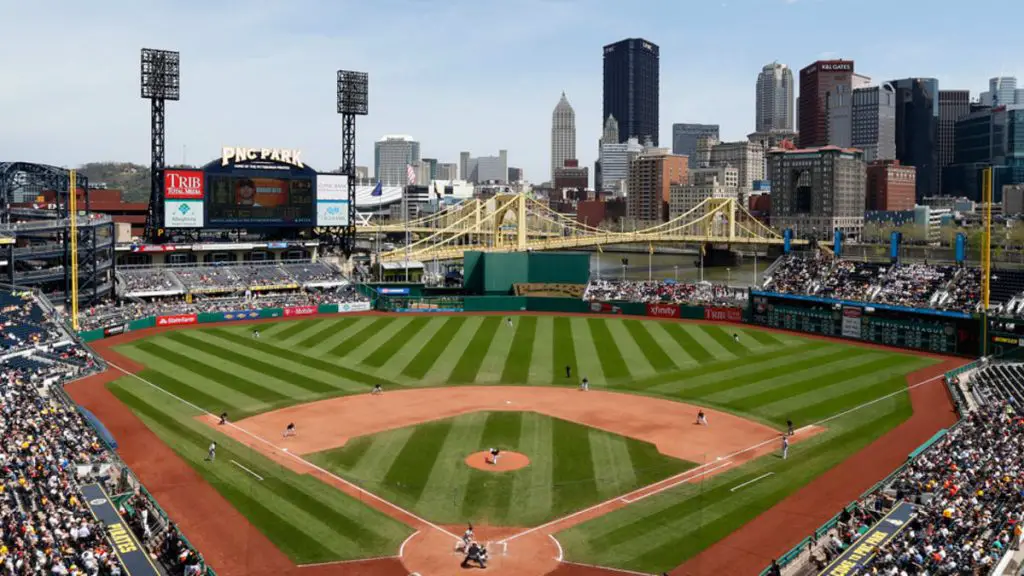 Who/What Is It Named After?
When the idea of PNC park was first introduced, there was a sentiment by Pittsburgh Pirates fans to name it after former outfielder Roberto Clemente. However, money won over sentiment and the naming rights were purchased by PNC Financial Services in August 1998.
PNC Financial Services christened the stadium "PNC Park" and, as per their original agreement, the company pays the Pittsburgh Pirates a total of $2 million each year through 2020. 
In a bid to keep fans happy, shortly after the naming rights had been purchased, the City of Pittsburgh changed the name of the 6th Street Bridge (located near the southeast corner of the site) Roberto Clemente Bridge. 
When Did It Open?
PNC Park opened on March 31st, 2001. The opening was marked with the playing of two exhibition games against the New York Mets. The first official game didn't take place until just over a week later on April 9, 2001, when the Pittsburgh Pirates took on the Cincinnati Reds. 
What Team Plays There?
PNC Park is home to the Pittsburgh Pirates and it has been ever since it first opened on March 31st, 2001. 
Location
PNC Park is located along the shore of the Allegheny River, giving it fantastic views of both the riverfront and the downtown skyline. The exact address of PNC Park is:
115 Federal Street
Pittsburgh, PA 15212
Capacity (Seated & Standing)
The seating and standing capacity of PNC Park has fluctuated over the years as new features have been added and older features have been removed. At present, it has a capacity of 38,747, but here's how it's changed over the last couple of decades:
| | |
| --- | --- |
| Year | Capacity |
| 2001 – 2003 | 37,898 |
| 2004 – 2007 | 38, 496 |
| 2008 – 2017 | 38,362 |
| 2018 – Present | 38,747 |
This may seem like a lot of seats but, in fact, PNC Park's current capacity makes it one of the smallest ballparks in baseball. 
What Are The Stadium Dimensions?
PNC Park was designed to make baseball even more entertaining and it does this by having different-sized walls. Here are PNC Park's full dimensions:
Left Field – 325'
Left Center – 383'
Center – 399'
Right Field – 320'
The surrounding fence runs 6-feet high in the left-field, 10-feet high in the center field, and 21-feet high in the right field. 
Seating Chart
Despite being one of the smallest baseball stadiums in America, PNC Park has seats that offer some of the most incredible views of the field. The seats themselves are angled towards the field and the aisles are lowered to help give an improved view of the game. 
There are 26,000 seats on the first level and the stadium's highest seat sits 88-feet above the field. The closest seats to the action are located just 45-feet away from the baseline. You can check out a view of the seating plan at PNC Park here. 
Best Seats
There are a few seats that might be considered as "the best" at PNC Park. If you want to be as close to the game as possible, you'll want to go for a baseline seat. These are located 45-feet away from the bases. 
However, if you want a bird's eye view of the field and you'd also like to take in some breathtaking views of the surrounding area, it's a good idea to choose a seat in the 300 level. 
In all fairness, however, each seat at PNC Park has been designed to give you a spectacular vantage point of the game and there really aren't any bad seats that should be avoided. 
Notable Features
While PNC Park is deemed as one of the best stadiums in the world for baseball, it doesn't really have any standout features. Instead, the design was focused more on the seating and making sure that every fan had a clear view of the field. 
There is one thing that really makes PNC Park stand out, though – its location. The views of the city skyline and the Allegheny River are truly breathtaking and, even if your team isn't playing that well, you'll still be in awe of your surroundings. 
Memorabilia
Just outside the Left Field Gate on Federal Street, you'll find the Pittsburgh Pirate clubhouse store. Here, you'll be able to purchase memorabilia of both the team and of PNC Park. This includes items such as framed prints, baseball jerseys, baseballs, caps, and more. 
Tickets
Ticket prices at PNC Park are pretty reasonable but, as with every stadium, prices increase the closer you are to the field. A ticket for a seat in the baseline boxes will set you back around $400. However, if you're looking for something a little more budget-friendly, you can get a ticket seated in the outfield box for around $30. 
Mascot
Perhaps unsurprisingly, the Pittsburgh Pirates (PNC Park's resident baseball team) have a mascot called "The Pirate Parrot". He was introduced in 1979 and was the result of a fierce rivalry between the Pittsburgh Pirates and the Philadelphia Phillies, whose team mascot is "The Phillie Phanatic". 
The Pirate Parrot first debuted on April Fool's Day when the Pittsburgh Pirates were playing the Philadelphia Phillies at Three Rivers Stadium. He was initially designed as a lean-looking chicken with a mean face! However, he was redesigned in 1985 to make him more appealing to children.
Notable Events
Aside from hosting some of the best baseball games ever played, including the 77th Major League Baseball All-Star Game in 2006, PNC Park has played host to some other notable events. These include:
Hosting the National League Wild Card Game on October 1, 2013
Acting as a film location for hit movies "She's Out of My League", "Abduction", and "Jack Reacher".
The venue of several concerts by the world's biggest artists including The Rolling Stones, Bruce Springsteen, and Ed Sheeran. 
What Time Do The Gates Open?
The gates at PNC Park open 2 hours before the game commences on day games. For nighttime games, they open 2.5 hours before the first pitch. 
How Much Is Parking at PNC Park?
This depends on where you park. If you want to park in one of PNC Park's parking lots, it'll cost you $20 for the day. The North Shore Parking Lot also costs $20, but it is slightly further away from the venue. If you're looking to save as much money as possible on parking, we'd recommend going to the parking garage on 350 Oliver Avenue. Parking here costs just $4. 
Can You Get A Parking Pass?
Parking passes are available and there are several ways you can get one. The first, and easiest way, is to purchase your parking pass alongside your game day ticket. You can do this using the MLB Ballpark app. 
You can also purchase parking passes online by visiting www.pirates.com/parking, or you can purchase one in person at the North Shore Parking Lot.
How Many Parking Spots Does The Lot Have?
There are over 20,000 parking spots available across all of PNC Park's recommended parking lots. 
Handicap Parking?
Handicap parking is available in all lots that surround PNC Park. These spaces are only available on a first-come-first-serve basis and your vehicle must display the proper credentials that allow you to park in a handicapped zone. 
Is There Tailgating?
PNC Park does allow tailgating at selected lots, but there are a few rules you must follow:
No tents are allowed.
No fires (other than cooking grills) are permitted. Cooking grills are not permitted in any garages. 
No personal or private toilets including port-a-johns are permitted. 
Alcohol is permitted, but the sale of alcoholic beverages is not. 
Tailgating is contained to paid space only. 
Public Transport
The West Busway is your best option to get to PNC Park on public transport. Take the "33x West Busway – All Stops" and disembark at the Clemente Bridge. From here, you'll be able to walk across to the stadium. 
Best Food At PNC Park
There is a great variety of food on offer at PNC Park and some of the restaurants offer fantastic scenic views of the city skyline and the Allegheny River. 
One of the most popular food vendors is Federal Street Grille Stand. Here, you'll find menu choices such as loaded fries, nachos, chicken sandwiches, tacos, and peanuts. This vendor is located in sections 136 and 143.
Pop's Plaza Food Court is also highly recommended and you'll find a variety of cuisine here including burgers, gyros, and sushi.
Classic Food Choices
There are a few concession stands dotted around PNC Park that serve classic food as well. Menu choices on offer include burgers, hot dogs, French fries, kielbasa, pretzels, and more. 
New Food Choices
New food vendors are being added to PNC Park all the time, but some of the best new food choices include:
Primanti Brothers: Local deli sandwiches
Riverwalk Grill: Loaded nachos
Jim Beam Left Field Lounge: Mediterranean flatbreads
Quaker Steak & Lube: Mild and hot wings
Classic Dessert Choices
If you want something sweet to either celebrate or drown your sorrows with, PNC Park also has some food vendors selling classic dessert choices. These include:
Sweet Spot: Amazing ice cream sundaes
Dippin' Dots: Ice cream balls served in loads of different colors
Cotton Candy: A classic, almost essential, baseball treat
JD Kettle Corn: Popcorn adorned with a variety of toppings
Can You Bring Your Own Food Into The Stadium?
Yes, you are permitted to bring your own food into PNC Park. However, containers are subject to search and checks upon entering the park. 
Can You Bring Your Own Drinks Or Water?
You can bring your own water but no other drinks or liquids into PNC Park. Again, containers are subject to search and checks upon entering the park.